Light Guide Products
Combining energy efficiency and cost optimization. Light Guide technology, much like it sounds, guides the light from LEDS to the areas that need to be lit by using a thin film or plate. Instead of using many LEDs as a backlight, Light Guide Films (LGF) or Plates (LGP) use only few side emitting LEDs at the edge of the device to spread light uniformly through the whole screen. Light Guide is available as a flexible film with a thickness of only 0.1 – 0.5 mm or as a thicker Plate 1 – 5mm depending on the individual use. Furthermore it is possible to segment different areas to avoid light leakage between areas or colors.

Light Guide film may soon become the standard backlighting option based on its many advantages. Nowadays devices become more and more thin and conservative backlighting technologies reach their limits. Due to its very thin design Light Guide works very well in these small and thin light devices. As seen as in many public areas Light Guide is a great solution for lighting large areas while still maintaining a mid-range point.

Our Light Guide Products find place in Consumer Electronics (Smartphone, tablet, keyboard …), General Illumination (Automotive interior, residential lighting…), Portable Electronic Devices (Medical devices, GPS devices…) and Retail (Kiosks, storefront window, wayfinding signs…).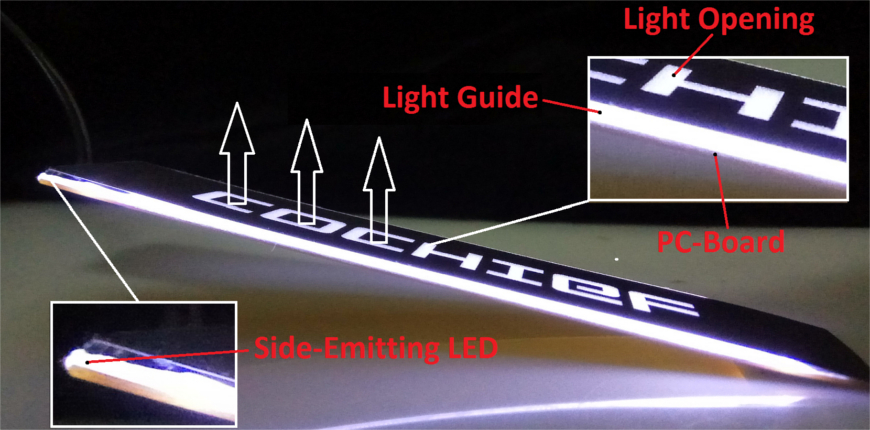 ---
Press Release
New Technology Release! Flexible Touch Switch

We proudly announce to provide our customers our new innovative product – The Flexible Touch Sensor.

Read More

2019 TAIPEI AMPA

Combination of Car Automotive industry and Touch Swtich module, Cochief's new product Touch Swtich Module will release on " 2019 TAIPEI AMPA".

Read More

2018 DISPLAY INTERNATIONAL

Cochief is capable of offering the total solution from design, produce to finished parts. Applications can be touched upon consumer products, transportations, industrial products, medical...

Read More