Slim Lighting Board B6 size
LED Light Box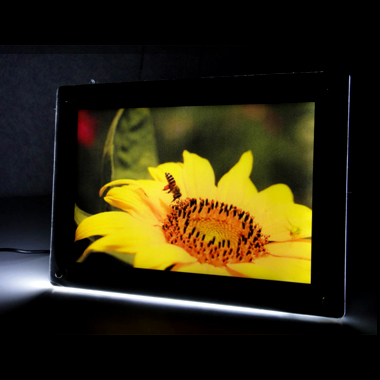 LED Slim Lighting Board is a new revolution of traditional lighting boxes, The thinner LED slim lighting board is less than 10mm, its thickness is only half of the traditional one. Without restriction of metal frame, light board is no longer confined to a square shape. It could be made with various of curve modeling, but also greatly reduce the product weight.
Features
1.Thickness: ﹤10mm
2.Uniformity: 70% up
3.Low power consumption
4.Exhibit way: Hang on the wall or put on tabletop
5.Use LEDs
6.With long life time
7.Low voltage
8.No Hg
9.Various design
10.Easy to install, changable poster
11.Lightweight
12.RoHS
Specification
1.Product Name: B6 LED Slim Lighting Board
2.Frame size: 211*157mm
3.Lighting area: 171*117mm
4.Display area: 176*139mm
5.Thickness: <9mm
6.Lifetime: 20,000hrs
7.Brightness: 1000Lux
8.Uniformity: 70%
9.Operating Voltage: DC12V
10.Current: <300mA
11.Power: 4W
12.Operating Temperature : 10~50℃
13.Storage Temperature: 0~60℃
14.Operating Humidity: 10~90%RH
INVERTERS
We will offer DC12V, 24V power Inverter to drive the lighting of LED Lighting Board.
Applications
LED Slim Lighting Boards are suitable for Advertisments, Restarurants, night Clubs, Kiosks, Schools, hospital, Bulletin board, Public Space, Showroom, Trade show booth, sign, Indoor decorations...etc.
Photo Gallery
Press Release
New Technology Release! Flexible Touch Switch

We proudly announce to provide our customers our new innovative product – The Flexible Touch Sensor.

Read More

2019 TAIPEI AMPA

Combination of Car Automotive industry and Touch Swtich module, Cochief's new product Touch Swtich Module will release on " 2019 TAIPEI AMPA".

Read More

2018 DISPLAY INTERNATIONAL

Cochief is capable of offering the total solution from design, produce to finished parts. Applications can be touched upon consumer products, transportations, industrial products, medical...

Read More