EL Keyboard
Electroluminescent Lighting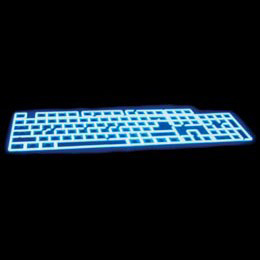 For Keyboard backlight, there are options. EL Lamp can be the best choice for the uniform lighting of Key Board.
With the narrow space that Keyboard requested, EL sheet have advantage of its thickness which is thinner than 0.3mm.
Features
Cool lighting, heat free
Uniform emission
0.1 to 0.2mm thickness
Lightweight
Low power consumption
Thin and flexible
Endures vibration and impact
Colors: blue, aqua, green, white and so on
Specification
Solid and stable
Comes in any size or shape, with or without holes
Versatile, graphics can be printed on illuminated surface
Connections can be located anywhere on the lamp
Individually addressable lit areas
Performance not affected by power cycling
Applications: mobile phones, remote controls
What is EL ?
An electro luminescent lamps electrically similar to a capacitor two conducting surfaces (light-emitting phosphor layer) with a dielectric layer between. EL lamps illuminate when powered with AC power. As voltage is applied to the conductive surfaces, an electric field is generated across the phosphor anddielectric layers. Twice during each cycle electrons are excited and emittedlight through the transparent front electrode.
The basic building block for the EL lamp is aluminum foil. Serving as the back electrode, the foil has dielectric coating applied to give the lamp high voltageintegrity. A layer of light emitting phosphor is then applied. Screened onto thephosphor is the transparent front electrode, which defines the lit area. On top ofthe electrode an opaque bus bar is screened, to provide a more uniform electricfield across the entire lamp surface, insuring more uniform luminance. Frontand back leads, specially treated to insure the moisture barrier is notcompromised, are applied to provide power access. Finally, the entire sandwichis enclosed in an Aclar package to protect the lamp from exposure toenvironment, especially moisture, and to provide electric insulation.
Safety/Quality Approvals
1. Cochief EL Product is accordance with RoHS
2. ISO 9001:2008 Certificate
3. D-U-N-S Certificate
4. TüV Taiwantrade supplier verification
Applications
(1) Backlighting
PDA, cellular phone , keypad, Calculators, game controllers, clock, radio, watch, pager and instruments.
(2) Signs
Emergency, road, house, building exit, entry, landing.
(3) Switches
Backlighting for membrane switches, domestic light switches.
(4) Automotive
Dashboard, Sill plates, Sticker, Pedal, Shift knob.
Interior and instrument lighting, coach lighting, Warning lamp.
(5) Architecture and interior design
High-tech lighting, illumination for elevator, emergency back up light for stairs.
(6) Advertising
Backlighting for advertising media, point of purchase displays.
Photo Gallery

Related Products

Electroluminescent Backlight

---

---
Press Release
New Technology Release! Flexible Touch Switch

We proudly announce to provide our customers our new innovative product – The Flexible Touch Sensor.

Read More

2019 TAIPEI AMPA

Combination of Car Automotive industry and Touch Swtich module, Cochief's new product Touch Swtich Module will release on " 2019 TAIPEI AMPA".

Read More

2018 DISPLAY INTERNATIONAL

Cochief is capable of offering the total solution from design, produce to finished parts. Applications can be touched upon consumer products, transportations, industrial products, medical...

Read More